Home Learning
Due to the current situation and the need for social distancing and school closures as a result of the outbreak of Covid-19, we have compiled some resources, help and advice to support the learning of Maple Tree children. Please use the extensive list of websites on the Pupils tab and also the year group tabs for more resources. Here is a little video explaining more about Covid-19 in a child-friendly way should your children want to know a bit more about why they are at home! https://ineqe.com/2020/03/20/animation-story-book-explains-the-coronavirus-to-children/
Trying to conquer the whole curriculum is probably going to make you and your children anxious. What your children need right now is to feel comforted and loved. To feel like it's all going to be ok. Please make time to cook, bake, paint, play board games and read together. Mental health at this time is more important than academic skills. They need to feel safe and secure in order to profit from any sort of learning.
Our advice is to prioritise the core subjects - Maths and English. There are lots of ways to cover the rest of the curriculum and you can get creative with these, for example, watching Horrible Histories or Blue Planet is a great way to cover some of the humanities. And don't worry, Ofsted won't be calling anytime soon! Remember school closures could go on for weeks so take the approach of little and often. Pace yourselves! Don't be tempted to do every bit of work on here in one week. We believe that your best is enough, so just do your best!
Give the children an element of choice: it can be a brilliant motivator. An immediate decision they could make is to give their "new school" a name and design its badge. Then, once they've done this, you can begin to have a discussion with them about what's going to be included in the curriculum. Include your children in the discussion around the different topics you might cover and when you're going to do so. Now you've managed to get your new class on board, it's time to set some school rules. This could include mobile phone and tablet use and rules on talking over one another.
Children and adults react well to structure, especially a morning routine. Try to design the learning schedule together and if possible, allocate a specific work space for your new class - their new classroom. This way they can primarily associate this space with their learning, and will find it easier to switch off when in other areas of the house. To try and maintain some links to their usual school experience, consider setting break and lunch times. Here are a couple of examples: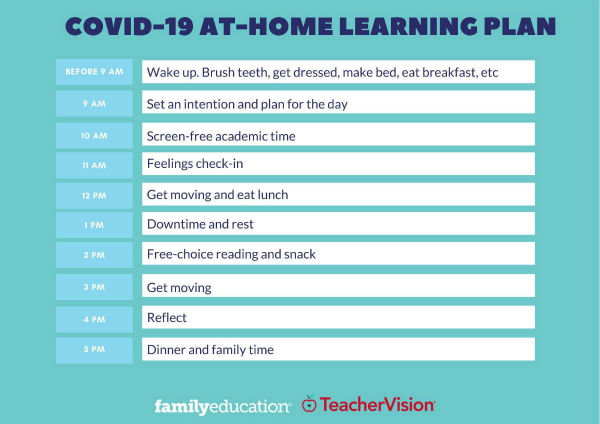 As you can see from the above schedules, it is important to make time for non-academic activities too. Teaching your children life skills, like putting on the washing machine, sewing on a button or using the hoover, is still learning!
Remember to take time to relax, have a varied and balanced diet and partake in physical exercise. Your well-being as well as the children's is very important through this unprecedented time. Being a teacher to your children could be the dream job you never expected! Stay positive, don't be too hard on yourself or your class, and remember... your best will be enough.